Do you remember going to your uncle's farm as a child and helping him with his farm work? Our working farm has been in the family for seven generations. Come rekindle your fond memories with your children or gra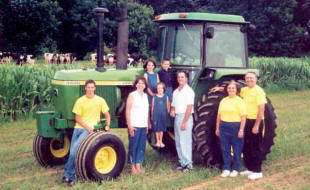 ndchildren. Join us for a walk down memory lane as you sit on our porch and watch the grazing in the pasture by the creek.
On October 17, 2005, our bank barn, built in 1760, was destroyed by an arsonist. In the weeks following the fire, our community helped us recover from this devastating tragedy. Our barn is now restored, thanks to the help of many family and friends.
For the story of our Amish barn raising click here.
In the heart of the country
Lies a home with a heart
That welcomes each one
From wherever they part.

We offer our beds
That melt off the stress,
And breakfast by morning
Will make you feel blessed.
And over the river
And through the woods
Lies another sweet homestead
Filled with even more goods.

The farm is a storybook
All in itself
With nearly 200 years
Of history's wealth.

You see it's the parents
Who moved off the farm
And onto a life
With grandchildren and charm.

There are 81 acres
Of God's country land
And calves, goats, and chickens
That can be fed by hand.

So take your pick
Of which home you would like
To stay in and rest
Through a cozy, quiet night.